#1 at 3532 Jasmine Ave. , 2 BdRm + Den, 1.5 Bath

upstairs / downstairs townhome with private entrance
Features:
* Upstairs / Downstairs townhome for separate of public and private areas.
* ~17' x ~19' Living Room with track lighting & brick wood-burning fireplace.
* Granite counter tops in kitchen.
* 17 Cu.Ft., two door, frost free refrigerator.
* Built in stove, cooktop and microwave
* Unit has economical central forced-air gas heating. There are quiet wall a/c units in smaller bedrooms although they're rarely needed.
* Cable TV & Internet are available from Time Warnet.
* Patio of living room is great for house plants.
* Copper potable water supply pipes and solar assisted hot water heating.
* Parking: tandum for one compact car and one subcompact.
* Coin-op laundry off courtyard.
* FHA grade or better carpeting with heavy high density padding.
* No pets.
* Gated garden courtyard.
* Lots of closets.
* Easy walk to #12 bus to UCLA. Soon to be easy (3 short block) walk to Expo light-rail line station.

3532 Jasmine #1 is not your typical rental. The 4 x 17 foot patio is an ideal environment for growing shade plants, and when appropriately tended makes a beautiful and restful backdrop when viewed through the 12 foot wide glass windows of the living room. The two level set-up means that public spaces are separated from private spaces; a guest can wait downstairs while a host or hostess gets dressed upstairs without either feeling that they are intruding or being intruded upon. The custom track lighting in the master bedroom and living room, as well as the beveled glass chadellier in the stairwell, enables a decorator look. There is an abundance of closets including a walk-in closet in the master bedroom (in addition to the normal wardrobe), a "guest" closet in the entry hall, a linen closet in the upstairs hall, and a storage closet under the stairs. Two of the closets have wall-switch controlled lights. There is a skylight in the upstairs bath. An active preventative maintenance program aims to keep the building problem free.

The occupants of the building are quiet, long term tenants. One family has been in the building for 18 years. The average for the building is ten years. Building occupancy is approximately one person per bedroom. Half or more of the units are occupied by people that work from home.back to Home Page
Entry to Unit #1 is directly off the courtyard. There is an intercom at the front gate to facilitate guest entry. Coin operated laundry facilities are located inside the courtyard, just before the rear exit. (Currently $1 wash and 50 cent dry.)




Kitchen has been recently remodeled to feature:


bright fluorescent lighting, and
Black-Granite Counter Top,
Recessed under cabinet lighting. .
Stainless steel sink with oversized pot-scrubber bowl on left.
Single-handle faucet & sprayer

GE PotScrubber dishwasher.
Maytag Wall oven
Cook top with electronic ignition.

Photo below shows status as of Saturday morning 8-18-2007... When work was nearly complete.






Unit comes equipped with a two-door frost-free refigerator.
Continued operation of the ice maker is not guarranteed.


Shown below left is dishwasher
and
below right is built-in wall oven.






Trash present in patio is long since gone. There are lights to illuminate the patio at night. Representative patio view shown below.fdfd





The five by 17 foot patio is ideal for people that love plants. Plants like ficus benjamina, schefflera actinophylla (a.k.a. Brassais), Fatsia japonica, and most all ferns florish because direct hot sunlight is blocked by the building. At night, the patio lights can be used to make the patio garden a dramatic backdrop for the living room.




| | |
| --- | --- |
| The brick fireplace can burn wood logs, although tenants are asked to make sure they the wood they bring into the unit is termite free. The gas starter bar can be used either to facilitate log ignitiion or, when combined with synthetic logs, give the impression of the natural fire. The hearth of the fire place is now black granite. | |

Photo taken BEFORE new granite pass-through counter top had been installed.

Also, photo taken before granite was installed in front of fire place.



The master bedroom has a walk-in closet as well as a standard accordian door closet. The walk in closet has a wall-switch control light.

The master bedroom also has track lighting on the ceiling adjacent to the west wall, above the logical location of the head of the bed.





Each of the small bedrooms has a unusually quiet 6000 BTU/.hour air conditioner. The slightly smaller east bedroom is typically used as den by most people.

The west bedroom has a wall-switch controlled light in the closet.







At left: Upper Central Full Bath

Below: Lower Half Bath










Floorplan dimensions are believed to be correct, but should be independently confirmed.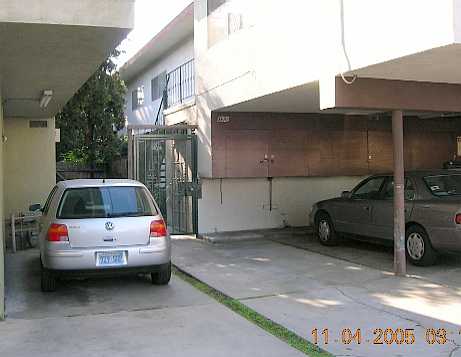 There is tandem parking for two subcompact cars in the north most slot.. Tenants do park larger cars, but navigating into the slot can be a challenge for some people.

A subcompact car is a car not exceeding 165 inches / 13.75 feet / 4.2 m in length. A compact car is typically 175 in / 14.6 feet / 4.5 m in length.

Building lighting is controlled by photo cells for consistent dusk to dawn lighting. Access to courtyard is via electronic key code.